Multimorbidade e Prevenção Quaternária (P4)
Palavras-chave:
Saúde do Idoso, Comorbidade, Interações de Medicamentos, Medicalização, Prevenção Quaternária
Resumo
A multimorbidade se tornou a norma para a maioria dos pacientes atendidos nos serviços de atenção primária à saúde, e enquanto a proporção de pessoas com multimorbidade é maior em idades mais avançadas, o número absoluto de pessoas com multimorbidade é maior em pessoas com menos
de 65 anos. O modelo de tratamento de doença única, com base no especialista focal, pressupõe que cada doença-índice seja a doença dominante dentro de um sistema complexo e que as outras comorbidades se mantenham constantes, enquanto o seu manejo é centrado em uma única condição. Assim, aplicando-se as diretrizes de doenças-únicas para uma pessoa com cinco comorbidades crônicas, não importando quais sejam elas, resulta em uma polifarmácia, potencialmente nociva. Esta abordagem tem conduzido a atual "epidemia" da morbidade e mortalidade por reações adversas a medicamentos, que já ultrapassa as doenças-alvo como causas de morte. Neste artigo, destacam-se quatro características da prevenção quaternária, que gestores de saúde deveriam levar em conta ao considerarem a qualidade dos cuidados em saúde
Downloads
Não há dados estatísticos.
Referências
Mangin D, Heath I, Jamoulle M. Beyond diagnosis: responding to the comorbidity challenge BMJ. 2012;44:e3526.
http://dx.doi.org/10.1136/bmj.e3526
Salisbury C, Johnson L, Purdy S, Valderas JM, Montgomery AA. Epidemiology and impact of multimorbidity in primary care: a retrospective cohort study. Br J Gen Pract. 2011;61:e12-e21. http://dx.doi.org/10.3399/bjgp11X548929
Davidoff F. Heterogeneity is not always noise. JAMA. 2009;302(23):2580-6. http://dx.doi.org/10.1001/jama.2009.1845
Starfield B. Diseases, chronic care and primary care. Sommer Memorial Lecture. Portland, Oregon: Johns Hopkins Bloomberg School of Public Health; 2010.
Boyd CM, Darer J, Boult C, Fried LP, Boult L, Wu AW. Clinical practice guidelines and quality of care for older patients with multiple comorbid diseases: Implications for pay for performance. JAMA. 2005;294:716-24. http://dx.doi.org/10.1001/jama.294.6.716.
CIHI. Seniors and the health care system: what is the impact of multiple chronic conditions? [Internet]. Canada: Canadian Institute for Health Information; 2011 [acesso em 2014 Dec 01]. Disponível em: https://secure.cihi.ca/free_products/air-chronic_disease_aib_en.pdf
Commission E. Strengthening pharmacovigilance to reduce adverse effects of medicines. Brussels: European Commission; 2008 [acesso em 2014 Dec 01]. Disponível em: http://europa.eu/rapid/press-release_MEMO-08-782_en.htm?locale=en
Malvezzi M, Bertuccio P, Levi F, La Vecchia C, Negri E. European cancer mortality predictions for the year 2013. Ann Oncology. 2013;24:792-800. http://dx.doi.org/10.1093/annonc/mdt010
Starfield B, Mangin D. An international perspective on the basis of pay-for-performance. In: Gillam S, Siriwardena AN (editors). The quality and outcomes framework (QOF): Transforming general practice. Abingdon, UK: Radcliffe; 2011. p. 147-55.
Mangin D, Toop L. The Quality and Outcomes Framework: what have you done to yourselves? Br J Gen Pract. 2007;57:435–7.
Baker GR, Norton PG, Flintoft V, et al. The Canadian Adverse Events Study: the incidence of adverse events among hospital patients in Canada. CMAJ. 2004;170:1678-86. http://dx.doi.org/10.1503/cmaj.1040498
Field TS, Gilman BH, Subramanian S, Fuller JC, Bates DW, Gurwitz JH. The costs associated with adverse drug events among older adults in the ambulatory setting. Med Care. 2005;43:1171-6. http://dx.doi.org/10.1097/01.mlr.0000185690.10336.70
May C, Montori VM, Mair FS. We need minimally disruptive medicine. BMJ. 2009;339:b2803. http://dx.doi.org/10.1136/bmj.b2803
WHO. Adherence to long-term therapies: evidence for action. Geneva: World Health Organization; 2003.
Cline CMJ, Björck-Linné AK, Israelsson BYA, Willenheimer RB, Erhardt LR. Non-compliance and knowledge of prescribed medication in elderly patients with heart failure. Eur J Heart Fail. 1999;1:145-9. http://dx.doi.org/10.1016/S1388-9842(99)00014-8
Vervloet M, Linn AJ, van Weert JCM, de Bakker DH, Bouvy ML, van Dijk L. The effectiveness of interventions using electronic reminders to improve adherence to chronic medication: a systematic review of the literature. J Am Med Inform Assoc. 2012; 696-704. http://dx.doi.org/10.1136/amiajnl-2011-000748
O'Donnell JL, Smyth D, Frampton C. Prioritizing health-care funding. Intern Med J. 2005;35:409-12.
http://dx.doi.org/10.1111/j.1445-5994.2005.00839.x
Public Health England. Disease prevalence model. England; 2013 [acesso em 2014 Dec 01]. Disponível em:
http://www.apho.org.uk/DISEASEPREVALENCEMODELS
Long AN, Dagogo-Jack S. Comorbidities of diabetes and hypertension: mechanisms and approach to target organ protection. J Clin Hypertens (Greenwich). 2011;13:244-51. http://dx.doi.org/10.1111/j.1751-7176.2011.00434.x
Institute of Medicine. Living well with chronic illness: a call for public health action. Washington: Institute of Medicine; 2012.
Jørgensen P, Langhammer A, Krokstad S, Forsmo S. Is there an association between disease ignorance and self-rated health? The HUNT Study, a cross-sectional survey. BMJ Open 2014;4: e004962. http://dx.doi.org/10.1136/bmjopen-2014-004962
Tinetti ME, Han L, Lee DH, et al. Antihypertensive medications and serious fall injuries in a nationally representative sample of older adults. JAMA Intern Med. 2014;174(4):588-595. http://dx.doi.org/10.1001/jamainternmed.2013.14764
The Action to Control Cardiovascular Risk in Diabetes Study Group*. Effects of intensive glucose lowering in type 2 diabetes. N Engl J Med. 2008;358:2545-59. http://dx.doi.org/10.1056/NEJMoa0802743
Iyer S, Naganathan V, McLachlan AJ, Le Conteur DG. Medication withdrawal trials in people aged 65 Years and older. Drugs Aging. 2008;25:1021-31. http://dx.doi.org/10.2165/0002512-200825120-00004
Nelson MR, Reid CM, Krum H, Muir T, Ryan P, McNeil JJ. Predictors of normotension on withdrawal of antihypertensive drugs in elderly patients: prospective study in second Australian national blood pressure study cohort. BMJ. 2002;325:815-7. http://dx.doi.org/10.1136/bmj.325.7368.815
Campbell AJ, Robertson MC, Gardner MM, Norton RN, Buchner DM. Psychotropic medication withdrawal and a home-based exercise program to prevent falls: a randomized, controlled trial. J Am Geriatr Soc. 1999;47:850-3.
Garfinkel D, Mangin D. Feasibility study of a systematic approach for discontinuation of multiple medications in older adults: addressing polypharmacy. Arch Intern Med. 2010;170:1648-54. http://dx.doi.org/10.1001/archinternmed.2010.355
Garfinkel D, Zur-Gil S, Ben-Israel J. The war against polypharmacy: a new cost-effective geriatric-palliative approach for improving drug therapy in disabled elderly people. Isr Med Assoc J. 2007;9:430-4.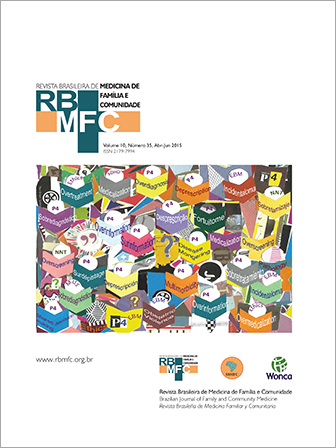 Downloads
Como Citar
1.
Mangin D, Heath I. Multimorbidade e Prevenção Quaternária (P4). Rev Bras Med Fam Comunidade [Internet]. 24º de junho de 2015 [citado 27º de julho de 2021];10(35):1-5. Disponível em: https://rbmfc.org.br/rbmfc/article/view/1069
Licença
Ao submeterem um manuscrito à RBMFC, os autores mantêm a titularidade dos direitos autorais sobre o artigo, e autorizam a RBMFC a publicar esse manuscrito sob a licença Creative Commons Atribuição 4.0 e identificar-se como veículo de sua publicação original.